Local Information
New Smyrna Beach Florida Area Communities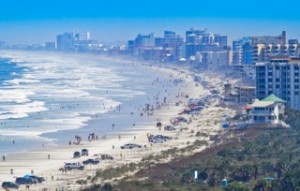 New Smyrna Beach is a beautiful city that is nestled among the moss-draped trees along the shores of the picturesque Indian River in Volusia County. It's located on the central east coast of Florida, completely surrounded by bodies of water; the Atlantic Ocean to the east, the Intracoastal Waterway to the west and Mosquito Lagoon in between the two.
New Smyrna Beach is definitely a laid-back coastal community; free of the crowds and noise that plague other Florida beaches. With a very rich history, New Smyrna Beach has the distinction of being the site of the largest single attempt at Colonial settlement in the U.S. Dr. Andrew Turnbull, a Scottish physician and entrepreneur, established a colony along the west bank of the Indian River in 1768.
Today, the town of New Smyrna Beach is home to approximately 21,000 permanent residents who welcome visitors to their island town. It's a small town full of southern charm and home to a vibrant historic downtown and beachside shopping boutique, a multitude of parks and outdoor recreation possibilities and just a short drive to other Florida attractions such as Daytona Beach, Disney World and the Kennedy Space Center.